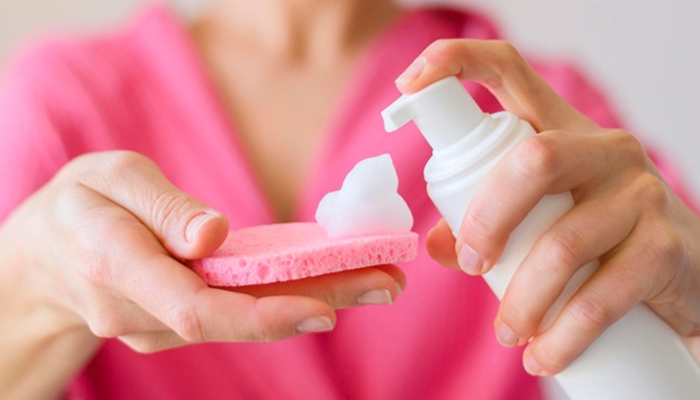 All you need to know about Cleansers
Cleaning the face is an important skincare routine. The cleanser is a cosmetic product designed for washing away excess oil, dead skin cells, pollutants, sweat, and makeup from the skin. By using a cleanser every day, you can prevent clogged pores. It permits your complexion to breathe, refreshes the skin, and prevents skin issues like acne.
The meaning of the terms cleansing and cleaning is the same i.e. removing impurities or dirt from an area. Cleaning includes everything like washing, removing mess or stain, and tidying. Cleansing is particularly utilized for eliminating germs, impurities or dirt through washing. The term cleanser is used for products that function on the skin. Example- Face cleanser.
The main role of the cleanser is to clean the skin without affecting the top layer. It develops a perfect layer to apply products such as makeup or face moisturizer.
Many of the cosmetic products and environmental impurities that our skin gets exposed to are not water soluble. So, washing the skin with only water would not remove the impurities. The cleansers help in removing dead skin cells, oil, sebum, and dirt without irritating or affecting the skin. It is recommended to cleanse the skin in the morning as well as at night to eliminate toxins that are settled on the skin.
Most people have an opinion that cleansers and face wash are the same. But, they are different products. Though both help in removing oil, debris, and makeup from the face, the way they clean the face is not the same. It is recommended to use a product that suits your skin requirements.
The face cleanser is ideal for soothing, hydrating, and purifying your skin. It is available in textures like watery, gel-like, milky and creamy. The face wash is designed to clean the pores deeply. It develops as foam or foamy when used on damp skin.
Difference between cleanser and face wash:
The face wash froth like soap and leaves a refreshed and clean feeling.
The face wash is recommended for individuals with oily skin as it offers a matte look.
The cleanser is more gentle than soap and face wash.
The cleanser is hydrating and moisturizing than the regular face wash.
Cleansers do not consist of ingredients like sodium lauryl sulfate as in the body washes and soaps. It is one of the common skin irritants.
Cleansers can be used daily to eliminate dirt and make-up from the face and it serves equal to a face wash.
Face wash can be utilized as an alternative to soap.
When you are using the cleanser, there is no requirement to rinse it off as you do while using the face wash.
Which is good - Cleanser or face wash?
Some people use the cleanser for cleaning and some use face wash for the same task. Are you wondering which is good for your skin- cleanser or face wash? Well, it can be decided as per the skincare requirements, routine, and skin type of the individual.
For example, if you have sensitive and dry skin types, the cleanser is an ideal option. In the same way, if you have combination and oily skin types and require a little nourishment or remove oil, we recommend using face wash. If your face has been exposed to pollutants and the main goal is makeup removal, the cleanser will serve better than face wash since it can easily eliminate oil-soluble purities.
The cleanser is gentle than the face wash. The face wash is gentler than the soap bar. You can use a facial cleanser and face wash in the skincare routine. Face wash can be used in the morning for complete cleansing. The cleanser can be used before bedtime, before workout sessions, or during the day to eliminate the dirt. The products can be changed or adjusted based on the oil or dry feeling after cleansing. There is no requirement to rinse when you are using the cleanser. You just have to use a towel or washcloth to clear it off.
How to use a cleanser
A cleanser can be used one to two times a day, once in the morning and once at night or when you want to remove the makeup. This two-time routine is sufficient for cleaning away dirt, makeup, and additional oil that are accumulated on the skin. Third cleansing is recommended only when you are dirty or sweaty.
Before using any face products or cleansers, ensure to first wash your hands thoroughly. If your hands are greasy, the cleanser has a chance to lose its function.
Take cleanser in a coin-sized quantity and gently massage it into the skin. You can massage it for around thirty to sixty seconds.
Massage in the upward direction in small circles.
Now, rinse your face thoroughly.
The following skincare products can be added after the cleanser.
Toner: It consists of hydrating, gentle ingredients and chemical exfoliants that treat bumps and acne and coddle dry skin.
Eye cream: A hydrating eye cream repairs the skin barrier and safeguard the under-eyes region overnight.
Treatment cream like anti-aging cream or serum: Serum consists of extremely concentrated antioxidants, hydrators, and nutrients that enhance your skin health when you apply them.
Light moisturizer during day hours: It protects your skin and makes the face look happy and healthy.
Heavy moisturizer during night hours: Night moisturizers with ingredients like proteins, lipids and hydraulic acid boost regeneration and fix damages in your skin.
Primer: Being a multi-tasker, the primer fills in wrinkles and fine lines, controls oil production and serves as an additional layer for the makeup to stick.
Face oil or retinol: Continuous use of retinol helps your body to develop less wrinkled, smoother, and fresher skin over time. The oils help in improving efficacy and leave the skin smooth and soft.
Sunscreen: The sunscreen is applied at the end of the skincare routine. It serves as a shield against the outdoor environment and safeguards your face.
Do's and Don'ts of cleansing
Do check the ingredients of the cleanser before purchasing one. It should be SLES or paraben-free.
Do check whether the cleanser remains gentle on the skin. It should not be excessively oily.
Do use a toner to neutralize the pH after cleansing.
Do not over-cleanse. Individuals with oily skin may attempt over-cleansing. This act would eliminate natural oils and damage the top layer of the skin.
Do not rub the cleanser. Excessive rubbing can affect the pH level of the skin and wipe off the natural oils.
If you are looking for a cleanser that does not strip the moisture or something mild for acne-prone skin or a gel-type or a foamy one, you have to research and choose the right one. Some of the best cleansers in the market are Cetaphil Gentle Skin Cleanser, Cetaphil Brightness Reveal Creamy Cleanser, Zo Skin Health Hydrating Cleanser, and Cetaphil Daily Exfoliating Cleanser.
Cleansers for acne-prone skin
The gel cleansers are recommended for individuals with acne-prone skin. They consist of a gel-like consistency and are ideal for deep cleansing. Due to their exfoliating and antiseptic properties, the gel cleansers are effective at acne-causing bacteria, remove excess oil, and aid in decongesting clogged pores.
Cleansers for dry skin
The cream cleansers are ideal for sensitive or dry skin. They are usually lush and creamy in texture. They can be hydrating or moisturizing and gentle than other cleansers. The best part of cream cleansers is they can cleanse without affecting the skin's natural oils.
If needed, a cleansing balm can also be included in your skincare routine. It does not require water to clear the oil, makeup, or dirt and it is simple to use. As it contains ingredients such as coconut oil, it hydrates and moisturizes your skin. Also, it does not contain any stripping or harsh ingredients, thus being a great option for individuals with dry skin.
Cleansers for oily skin
Along with gel cleansers, clay cleansers are also best for oily skin. They purify the skin by eliminating excess toxins and oil from the pores. They do not contain any harsh acids or scrubs. The clay cleansers are even recommended for individuals with combination skin and sensitive skin. If you have been using a clay mask, you would prefer a clay cleanser.
Cleansers for combination skin
The foam cleansers are best for the combination skin type. They are in between cream and gel cleansers. At the start, they look like a gel or cream and as you apply, they develop into a foamy, rich lather. They aid in eliminating excess oil and functions similar to gel cleansers. The foam type serves as a powerful cleanser to wash the sunscreen or layers of makeup away gently.