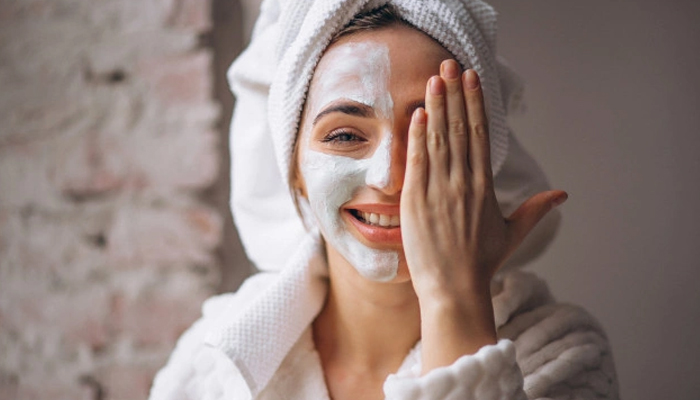 What Is The Correct Skin Care Routine?
If healthy skin is what you are looking for, then you must follow a committed skin care routine. And it is not just any routine that involves toning, cleansing, or moisturizing. There is a hidden philosophy which if followed rightly will reward you with glowy, shiny, and healthy skin.
However, not everyone gets to taste the success of the right skincare routine. And with billion products and unlimited options, the entire skin care routine not just becomes confusing, but also difficult. Besides, it also takes a toll on your skin, hurting and damaging your skin at worst.
By now, your panic level sure must have crossed its limit, leaving you stressed and worried. Relax and ease yourself, for this article will introduce you to the whole new world of skincare routines.
Why Is The Correct Skin Care Routine Important?
Many times you may wonder as to why it is important to follow a skin care routine when your skin looks just fine. As per the experts, your skin may look fine now. But after 5-10 years, your skin will start showing weak lines, spots, marks, etc., which of course is irreversible. If you do not want to look aged before you reach the actual period, then you must follow a regular skin care routine. Besides, there is no one age period for skin care as you can start anytime. However, the earlier you start taking care of your skin, the better and rewarding it will be.
When you follow the right regimen of skin care, you will be benefited to the fullest. So the first thing you must take note of is to follow the correct instructions. Note that there is a no-one-rule notebook for skin care, as each skin type is different and so is their care.
Before you randomly start with any routine care, you must identify your skin type. This will help you follow the correct skin care routine and will also bless you in many ways.
Know Your Skin
If you are finding it difficult getting to know your skin type, then the below cheat sheet will help you know your type.
· Oily Skin – Greasy and shiny, accompanied by big or small pores.
· Dry Skin – Scaly, flaky, and sometimes rough appearance.
· Sensitive Skin – May experience itching, sting, or burning after using makeup or other related products.
· Combination Skin – It may be dry in some places mostly in the cheeks and oily spots in the nose, forehead, and chin.
· Normal Skin – Clear, balanced, and is not sensitive to any products.
Once you get to know your skin type, you can start with a skin care routine that perfects your type. Since you will be following it regularly, you must keep it simple and easy. This will help you keep focused on keeping your skin healthy and fresh while removing the confusion and complicated part.
Let's get started with the right skin care routine for a beautiful glow and shine.
Skin Care Routine
It does not matter whether you are following the 10 steps Korean beauty skin care routine or a couple of step routines. What matters here is how you follow it as you will be using many products at a time. The first basic rule while layering the products is to start with thin, water-based formulas and finish it off with thick products. The prime purpose here is to allow the product to absorb before the application of the next product. It is because water-based formulas are easily penetrable and quick in the absorption process when compared to heavy products.
Keeping the above thumb rule in mind, let's break the skin care routine for day and night, summer and winter.
Skin Care Routine One Should Follow During the day
The skin care routine for the day is all about shielding from pollution, sun, dirt, and other related elements. Start by following the below steps.
Step 1 – Cleanser
Start cleaning the skin by washing your face with warm water. This is the most important and basic part which must be done twice a day. This will remove sweat, dirt, microbes, grime, and pollution. Use a gentle face cleanser formula that suits your skin type.
If your skin type is normal/combo, then wash your face with a cleanser or a soap using your fingertips. Never scrub your face hard and wash with warm water.
If your skin is dry, then use a cleanser that has no fragrances or alcohol, as these ingredients will dry out the skin more. Wash with warm water and avoid hot water, for it will remove the natural oil of your face and make it look drier and flakier.
Use an oil-free cleanser for oily skin. If you are using astringent or toner after, then be careful as there are high chances that it will irritate the skin.
For sensitive skin, use a gentle cleanser and pat dry. Do not use products that have ingredients like soap, alcohol, fragrance, or acid. Instead opt for those products that have green tea polyphenols, aloe, oats, etc. The fewer the ingredients on the product, the better it is for the skin.
Step 2 – Toner
Not many are a big fan of toner, for few experience irritations on the skin. If you have been using toner and have not experienced any side effects, then you can go ahead with it. Toner helps to remove dirt, residue, and oil that remains after the cleansing process. It also helps to return the ph. level of the skin after soap usage.
But if you have not been using toner, and your skin looks just fine and healthy, then you can simply skip this part.
Step 3 – Serums
The serum is your skin's best friend which is highly recommended to use in the morning. Since there are varied types available in the market, it is best to use those that contain vitamin C. It does not just help free radicals that lead to premature aging of the skin but also brightens it. A good face serum will help the skin from sun damage and can be applied at any day time.
Step 4 – Spot Treatment
Spot treatment will enhance the skin and clear off the spots, leaving your skin fresh and healthy. But make sure you consult with your dermatologist, as not all spot treatments are designed for all skin types. It also dries out the skin, so make sure you apply it only on the spots.
Step 4 – Moisturizers
Moisturizing your skin daily is one of the most important steps for healthy skin, regardless of oily or dry type. Your body is naturally designed to secrete oil that acts as a protective covering against infections and harsh conditions. However, you still need an extra protective layer for harsh chemicals, sun, and weather.
Choose your moisturizer depending on your skin type. If you have issues with acne and have oily skin, then go for a lightweight oil-free product, so that it does not block the pores. Lightweight gel moisturizer has proved to be of great help for dry skin. The best time your moisturizer will work perfectly is when you apply it while it is still damp, as this will help in locking the moisture.
Step 5 – Sunscreen
This is the last step of your skin care routine that must be followed during the day. It is effective, safe, and protects against skin cancer. It also delays the skin aging process like pigmentation and wrinkles. Although your moisturizer will have sunscreen on it, it is still advisable that you use a separate lotion for extra protection.
When buying sunscreen, make sure you opt for the one that has broad-spectrum protection with the sun protection factor – SPF of 30. Whether it is cold or sunny, apply it every day. And if you are constantly exposed to the sun, then apply every two hours. Apply the sunscreen 30 minutes before you are exposed to the sun and make use of other protection methods like a hat or umbrella.
Never use vitamin A creams like retinaldehyde or retinol during the day, as it will increase sun sensitivity. Vitamin C can be used during the day as it will protect from pollution and UV rays.
Skin Care Routine One Should Follow During the Night
The morning routine is all about protection, while the night skin care routine is about repairs and treatment. If your skin is irritated after your long hard day, then hydrate and protect it. If dull, exfoliate it. The following is the step guide to use during the night.
Step 1 – Cleanser
The first thing you must do is to remove the dirt, grime, oil, and makeup from the skin. If you are wearing makeup, then use a good makeup remover before you start with the cleansing process. Double cleansing is very effective and must be used at night time. It involves cleansing oil that removes the makeup and other dirt from the face and then washing it off. Once you are done with the cleansing process, wash your face with the regular cleanser.
Step 2 – Face Mask
This is optional, but if used, your skin will benefit a lot from it. This step must be followed after the cleanser and can be used at least twice a week.
Step 3 – Toner and Serum
Apply the toner as you usually apply it in the morning. And to further boost your skin, you can apply serum as well. The prime purpose of these products is to nourish and hydrate the skin.
Step 4 – Retinol
It helps to boost the production of collagen in the skin and even the skin tone. If you are using retinol, do not use any acid-containing products for any unwanted reaction.
Step 5 – Moisturizer/Oil
Wrap your night routine with the best night cream or moisturizer. Do not use the same moisturizer day and night, as each is designed accordingly. Night creams are heavy and thick, which is not the same as day cream. Choose the right night cream to help lock the moisture in the face. If your skin is dry, then simply apply face oil before you apply the night cream.
Skin Care Routine One Should Follow During Winter
Winter is not just the season of cold and harsh weather but also dry and flaky skins to brittle bones. This season surely brings loads of troubles to our skin, however, there needs to be no panic attack. Your skin can stay fresh and glowy by following the below simple winter care tips.
· Nourish – It is the time for creamy cleansers. Go for cleansing oil or oil-based foaming cleanser. Choose products that contain vitamin C, ceramides, moisturizing properties, and niacinamide.
· Moisture – Apply moisturizing cream as soon as you step out of the shower. This will seal your face moisture. Apply at least twice a day. Take advantage of your spare time and cold weather by applying the hydrating mask, at least twice a week.
· Sunscreen – If you thought that sunscreen must be used only during summer, then you have got the whole idea wrong. It is an everyday commitment, regardless of summer or winter. And this may come as surprising news, winter sun is more harmful when compared to the summer. Apply every 2-3 hours if you are being exposed to the sun to avoid problems like wrinkles, fine lines, and skin sagging.
· Night time Care – It is the time for repair. Buy the best nourishing cream that suits your skin type. Look out for ceramides, polyhydroxy acids, and retinol that will shield your skin from the harsh weather.
Skin Care Routine One Should Follow During Summer
When the weather presents you with excessive heat and humidity, your skin is the one that suffers the most. If you want to avoid unwanted summer skin problems like sunburns and rashes, then follow the below skin care routine steps.
· Wash Face – Summer is the time when your skin produces excess oil. Wash your face twice a day, which is in the morning when you wake and at night before going to sleep. Make sure you foam wash your face to avoid unwanted skin troubles.
· Exfoliate – Oily skin is not the only issue, as you have to deal with dullness and dryness. This is why it becomes very essential to exfoliate your skin regularly during the summer days. Use natural home remedies like coffee grounds mixed with sea salt and oil or just invest in good face scrubs. It will remove the dead and dry cells and rejuvenate your skin keeping it healthy and fresh. Don't forget to exfoliate the neck and lips too.
· Refreshing Toner – Toner helps to close open pores, which in turn avoids acne. Buy refreshing tones that have cucumber or aloe vera in it.
· Dual-purpose Moisturizer – Choose non-greasy formulas that contain ingredients like Vitamin A and C. It will be an added point if it has SPF in it. Apply moisturizer after your shower.
· SPF – Buy a good sunscreen that comes with SPF 30-50. Even if you are not stepping out or just going for a swim, make sure you apply it many times to avoid skin damage.
· No Heavy Makeup – Heat and humidity will prevent the skin from easy breathing. Avoid heavy cosmetics and foundations and go for light moisturizer and makeup.
· Protect Eyes, Lips, and Feet – Wear sunglasses, use moisturizing lip balm and eye gel whenever you step in the sun. Don't forget your feet and apply moisturizer and sunscreen to your feet as well.
· Be Hydrated – Apart from sunscreen and moisturizers, make sure you keep yourself hydrated with water and fruit juices as they will glow your skin from inside.
Apart from following the above simple tips, another thing that one must always keep in mind for healthy skin is eating smart. Your skin is the depiction of what you eat. Eat loads of fruits, veggies, and whole grains. Fill your plate with lean proteins like fish, beans, chicken, eggs, and lean meat. Avoid trans-fat, high cholesterol, salt, saturated fats, and sugar. And the most important part, stay relaxed and stress-free.