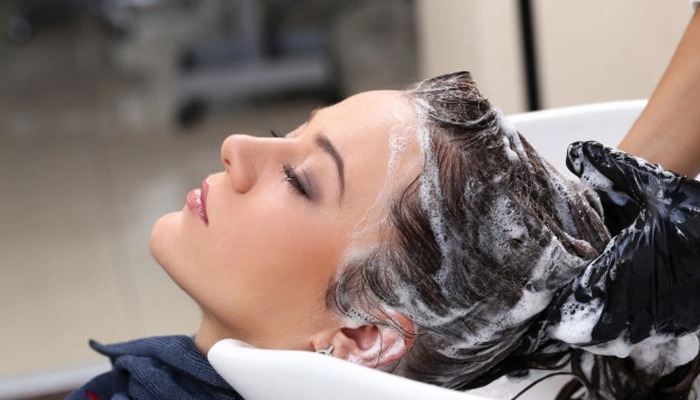 How to choose a shampoo to control hair fall?
Are you noticing more hair in the shower drain or on your pillow? Hair loss problems may happen because of the wrong shampoo. Choosing the right shampoo is important in controlling your hair fall. When you step into cosmetic showrooms, you would find a huge section fixed for shampoos.
You may encounter numerous shampoos and shampoo brands varying from shampoos for oily hair, normal hair, dry hair, anti-dandruff, glossy, color protect, and volumizing shampoos. At the first look, you may feel confused about which one to choose for your hair. When you read the description or the label, you would find each product improved more than the other.
So, how to pick the right shampoo for controlling your hair fall? Do you need to choose one that contains natural ingredients or one that is expensive? Do you require a mild variant or one that can be even used for the baby? Well, in this article, we are going to share tips that will help you in choosing the right shampoo to control hair fall.
Top tips to select the right shampoo to control hair fall!
1. Know your scalp:
Before selecting a shampoo, you have to know your scalp type as all shampoos are not suitable for your scalp. Generally, shampoos contain cleaning ingredients that aid in removing extra dirt, oils, and buildup from the hair and scalp. It is simple to maintain your hair when the scalp is healthy. But when the scalp is oily and dry, you have to choose a shampoo that is appropriate to your scalp type. If not, it will be hard to manage the locks.
2. Know your hair:
Choose a shampoo that is appropriate for your hair type. Remember, each person has a unique hair texture and type and not all the shampoo is right for your hair. One of the main reasons for hair fall issues is following the wrong hair care regimen. Many hair products consist of harsh chemicals that make the hair lifeless and dull and even damage the locks. When you are choosing a shampoo, determine your hair type. It can be oily hair, dry hair, curly hair, fine hair, or color-treated hair. A shampoo that is made for dry hair would not suit oily hair. It will never work.
3. Use shampoo with natural active ingredients:
It is recommended to use shampoos with natural ingredients as it does not cause any harm to your hair. When you use shampoos that contain chemicals, you would see a lot of side effects as a consequence. Are you wondering how to tackle your hair loss issue and wish to make a smart choice? Well, you should select a shampoo that contains natural ingredients. Ensure to avoid shampoo that contains chemicals such as Olefin Sulfonate, Propylene Glycol, Byproducts of Lauryl Alcohol, Siloxanes, Myreth Sulfate, Ammonium Lauryl Sulfate, and Sodium Lauryl Sulfates. Some of the ingredients cause scalp inflammation and some can be irritants, resulting in brittle and thin hair.
4. Do not give importance to lather:
Most people have a high opinion on shampoos that lather well. The amount of lather is not important when you want the best hair fall shampoo. Shampoo that lathers less is better and it means the contents in the shampoo are accumulating more oils and dirt.
5. Choose a shampoo with the right pH level:
Shampoo with a pH level of about 6.5 is recommended as this is the ideal pH of the hair scalp. When you are using shampoo with this pH level, it would not permit hair and scalp to get dry. It will also retain moisture that is necessary to keep the hair shiny and healthy.
6. Use creamy, nourishing shampoo for color-treated hair:
It is important to give special care and attention to colored hair as it is exposed to chemical treatments. Regular shampoos will not work on colored hair. If you wish to maintain your hair in the best manner, you have to choose a shampoo that is manufactured especially for colored hair. There are chances for colored hair to fade quickly when it is not maintained well. It should be washed once in a few days or requires extra hydration. Color-safe shampoos are gentle than the usual shampoos.
Use sulfate-free shampoos as they can fade the hair faster. The pH level of color-safe shampoos will be very less and they cannot damage the hair cuticle easily. Certain shampoos contain SPF that aids in safeguarding your hair from color fading and sun exposure. Choose shampoos with ingredients such as soy extracts and amino acids to preserve the hair color.
7. Use moisturizing shampoo for dry or damaged hair:
It is challenging to manage dry hair. If your hair is dry and frizzy, you should look for ways to give moisture to your hair. It is also an indication of hair damage. Your hair may break or become brittle. Coarse and dry hair gets tangled easily and needs nourishing and gentle shampoo as part of the hair care routine. Ensure to select creamy and moisturizing shampoos if you have dry hair.
As this type of hair is susceptible to frizziness, choose shampoos with moisturizing ingredients that reduce frizz and condition the hair. It is best to use shampoos manufactured for dry hair. It works best especially when you use conditioner after the shampoo. The nourishing conditioner consists of hair smoothening properties that aid in controlling frizz and locking moisture after hair wash. Do not use shampoos that contain sulfates as they can dry away from natural oils and make the hair dry.
8. Use clear shampoo if you have fine hair:
As fine hair consists of a naturally silky texture, it needs less drying time. It becomes oily easily and consists of less volume. Creamy shampoos are not recommended for fine hair. It is best to use non-creamy and volumizing shampoos. These shampoos are light, boost the hair cuticles and develop a form in your hair. Volumizing shampoos consist of ingredients such as hydrolyzed wheat protein. It aids in improving the hair shaft diameter and thus, transforms your hair bulky. Also, ensure to select silicone-free shampoo as it can help in managing fine hair strands.
9. Use creamy shampoo if you have curly hair:
If you have recently had a perm or naturally curly hair, you should treat the hair with extra care. You cannot use the normal shampoo for your hair. Ensure to select a shampoo that is made for your hair type or treatment or with high protein contents for deep root moisturization and conditioning. The curly hair will get damaged in high humidity and look dry due to its texture. If you have frizzy curls, you should use an ultra-moisturizing shampoo that reduces dryness and frizz without affecting your hair.
10. Use anti-dandruff shampoo if you have greasy, itchy hair:
Oily hair has to be washed frequently to reduce its greasiness and get a nice shine. Due to too much sebum, your hair would remain dirty and oily most of the time. When you use harsh shampoo, it may damage hair. So, if there is too much oil production or experiencing dandruff symptoms, or have a scaly, itchy scalp, you should choose anti-dandruff shampoo. It helps in keeping your hair lustrous and clean, control hair fall, and is free from itching and flakes. Individuals with this hair type should avoid using creamy, moisturizing, and hydrating formulas as that can add grease and moisture to the scalp. So, choose shampoos with strengthening and balancing formulas.
11. Price:
One of the important parameters you should consider when selecting the shampoo is price. There are a lot of options and it is hard to say whether drugstore shampoo or high-end shampoo formulas are best. Most high-end shampoo formulas do not contain harsh ingredients. It will be more expensive than the drugstore shampoos. The drugstore shampoos are affordable; however, it has chances to strip the natural oils in your hair. If you have dry hair or color-treated hair, you should not opt for drugstore shampoos.
12. Argan oil:
If your shampoo contains argan oil, it means you have selected the right shampoo. Argan oil promotes hair growth and prevents the lessening of hair follicles in both women and men. It fights dandruff and serves as a moisturizer.
13. Cayenne:
It is an effective hair loss fighting component. When selecting a shampoo, ensure to check whether it contains cayenne. This ingredient is used for numerous hair growth and medical applications. It stimulates the scalp by improving the overall circulation and drawing blood towards it.
14. DHT Blockers:
DHT repairs the hair follicles. Ensure to buy shampoos with Dihydrotestosterone blockers or DHT blockers. Some herbal shampoos consist of vitamins that develop a natural DHT blocker and aids in improving hair growth and reducing short pattern baldness.
Conclusion:
If you want to follow a perfect hair care routine, you have to select a shampoo that is appropriate for your hair type. By researching the ingredients, various formulas, and benefits, you can choose a shampoo that will aid in giving you the best results. If required, you can also consult your dermatologist and use shampoo as per their recommendations.